Dermal fillers are an anti-ageing facial treatment that help to rejuvenate and reduce wrinkles for instantly younger looking skin.
As we age, our face loses its youthful fullness and volume, our skin develops more visible signs of ageing such as wrinkles, deep folds, crows feet, and smile lines.
What are dermal fillers?
Dermal Fillers contain hyaluronic acid.  Hyaluronic acid is a molecule that we are born with but as we age, hyaluronic acid begins to reduce which leads to volume loss within the skin. Dermal filler can be injected or inserted into the skin through a cannula to replace this lost volume, making the skin look more youthful.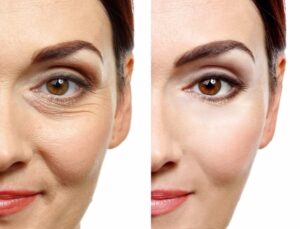 What can dermal fillers be used for?
This anti-ageing treatment can be used to smooth any areas of concern, create fuller lips and help contour facial features such as the jawline and cheeks to give an overall fuller, yet natural look.
The most common uses are to:
Plump thinner lips
Smooth out deep-set facial lines
Reduce wrinkles
Enhance facial contours such as the cheeks
Treat signs of ageing
Reshape facial features including the nose and chin
Fill out the tear trough that causes dark circles
Liquid face lift
How long do dermal fillers last?
Effects can be seen immediately and can last anywhere from 8 – 12 months, depending on the treatment and other factors such as a person's natural metabolic rate and lifestyle choices.
Hyaluronic acid fillers usually start breaking down in the body after around 6 months, so once you have achieved your desired look, it is best practice to maintain this with regular top-up treatments. Your practitioner can advise you on how often this should be.
What is the difference between Botox and dermal filler?
Dermal Fillers contain hyaluronic acid to replace lost volume, create facial contours and reshape facial features and will last 8-12 months. Botox works by 'freezing' the facial muscles to prevent them from making the usual movements that cause wrinkles such as frown lines and crow's feet and results will last approximately 3-4 months.
Do dermal fillers have side effects?
There are side effects which can occur but if your practitioner is experienced, then the risk of any serious side effect is very limited. If one was to occur, then an experienced practitioner would know exactly how to deal it and client manage the process effectively.
Common side effects are mild redness, localised swelling, bruising and tenderness around the treated area.
Will I need any specialist aftercare? 
It is advisable to avoid the following after receiving any dermal fillers treatments for the next 12-48 hours:
Do not wear makeup for 4 hours
Consuming alcohol, ibuprofen or aspirin
UV light, direct sunlight, saunas, and steam rooms
Strenuous physical exercise or activities
Your practitioner can advise you of suitable aftercare products and guidelines.
What are the benefits of getting dermal fillers?
One of the main benefits of dermal fillers is that there is minimal recovery or downtime, and results are visible immediately after the treatment. Provided you get treatment with a reputable practitioner, there is minimal risk with long-lasting results to give you that perfect confidence boost and younger looking skin.
Read more about the Dermal Filler treatment from Manor Health here. If you are looking to speak to one of our aesthetic experts about the treatment or your suitability for the treatment, contact us today.