Non-Surgical Nose Job
---
This treatment is also known as Nose Filler/Non-Surgical Nose Augmentation.
We can straighten, lift the tip of the nose or simply improve your side profile.
What is a Non-Surgical Nose Job?
---
Also known as non-surgical rhinoplasty, this nose appearance altering treatment is a safe and affordable alternative to surgery. The treatment will take approximately 15-20 minutes to complete with 15 minutes allocated prior for anaesthetic, to ensure the procedure is as comfortable as possible.
How the Procedure Works
---
The procedure works by injecting dermal fillers above and below the 'bump' on the nose, making 'hooked' noses perfectly straight. Furthermore, by using the fillers around the tip of the nose, the procedure can make your nose look thinner and refined.
Prior To Treatment
---
A free consultation and health check will be carried out either in advance or on the day of the procedure to ensure you are suitable and fully understand the treatment.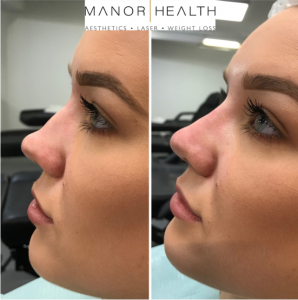 Non-surgical rhinoplasty can:
Straighten Nose
Lift the tip of the nose that is hook shaped
Reduce nostril flare
Contour to make it appear smaller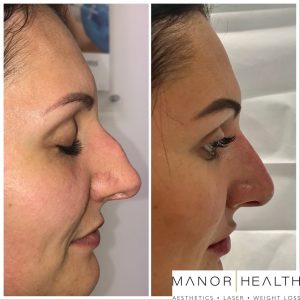 Benefits Of The Treatment
No Downtime Is Needed
Minimal Bruising And Swelling
The Procedure Takes Less Than An Hour
Immediate Results
The Procedure Is Reversible
Benefits last 8-12 Months
Cheaper Than Surgery
What is Used For the Procedure?
---
Dermal Filler is used for a non-surgical nose job and will last approximately 8-12 months depending on a person's metabolic rate and lifestyle choices. 
What Dermal Fillers Do You Use?
---
We use a range of premium fillers including Juvederm 4, Teosyal or Amalian. The chosen filler will depend on the treatment required.
If you are interested in finding out more about our range of cosmetic treatments, you can email us at: maria@manorhealth.co.uk or call us on: 0113 870 1000, alternatively you can contact us with the button below