Now that Spring is finally with us, it's time to get your skin ship shape. Winter really takes its toll on most people's skin. Manor Health's Top Skin "Tweakments" and advice in time for Spring, will have you feeling fresh and flawless in no time.
BUT before we even get started, here's some top tips from us!
Exfoliation: It's the first step to glowing skin and removes dead skin cells, which leave skin looking tired and dull. We recommend Image Ageless Mask for amazing results and a flawless complexion
Hydration: 2 litres of water per day will not only help your productivity and energy levels but is essential for maintaining healthy skin
Sunscreen: Image SPF 50 is our number 1 selling product, it's an absolute must have and sits perfectly underneath make up, meaning you have full protection from unnecessary sun damage.
Daily fruit and vegetables: Health and radiance start from the inside of course.
Work out: That after workout glow is unmissable but don't forget to cleanse afterwards. Sweat left on the skin can cause breakouts.
Clean your makeup brushes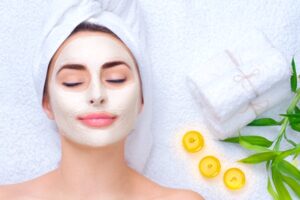 Dermal Fillers
Add an additional boost of Hyaluronic acid to your skin with Dermal Fillers or Profhilo. Hyaluronic acid plays an important role in keeping your skin looking plump and smooth. The loss of hyaluronic acid leads to an increase in fine lines and wrinkles and eventually deep folds within the skin. By placing this back into the skin with dermal fillers or Profhilo, it will help to reduce wrinkles and smooth out any facial lines, leaving you with a natural yet fuller-looking face. Dermal fillers can also be used as a cheek or lip filler to enhance facial features.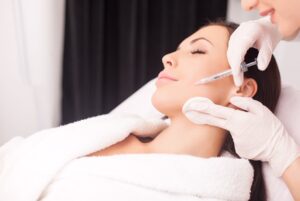 Honey Derma Cog Threads
Our new, innovative Honey Derma Cogs support the skin with multidirectional barbs. This treatment is perfect for those who'd like to see the effects of a facelift without going under the knife! These new threads will give the skin a collagen boost and naturally lift the face, making you look and feel more youthful. Eliminate lines and wrinkles, lift the face, neck and jawline and enhance the collagen production in your face with this treatment. Honey Derma Cogs have an improved strength in comparison with PDO Threads and are much longer lasting. They work by stimulating collagen production in the skin, results are instant and optimum results can be seen after 6 months. Results of a cog lift will last two years.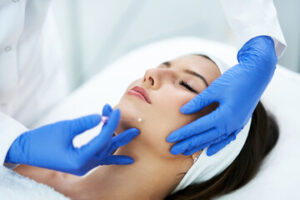 Fractional Laser Skin Resurfacing
Treatment for lines, wrinkles and scars can also treat stretchmarks, post pregnancy stomach and loose skin.
Fractional Laser Skin Resurfacing provides total rejuvenation to give the skin a smooth, youthful and glowing appearance. Minute sections of the skin are targeted with laser light, which penetrate the tissue, causing small columns of thermal damage to stimulate significant collagen renewal.  The surrounding non-affected areas of skin aid the body's natural recovery process, for dramatic results without significant downtime. Fractional Laser will significantly reduce lines, wrinkles, sagging/loose skin, scars and stretch marks.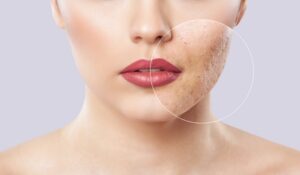 Radio Frequency Skin Tightening
We use Radio Frequency waves which penetrate the skin to reach a temperature of 39 degrees, at this temperature we start to stimulate collagen fibres to help improve fine lines and wrinkles. The treatment also contains a vacuum which is used together with Radio Frequency, this stimulates your lymphatic system and is excellent for treating dark circles and puffy under eyes. There is no downtime with this treatment so it is a perfect lunchtime treat just in time for the weekend!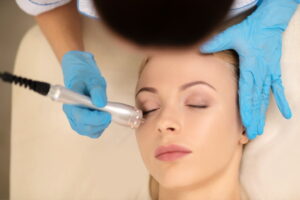 If you would like more information about any of Manor Health's treatments and services please call the clinic on 0113 870 1000 or you can book online by visiting www.manorhealth.co.uk